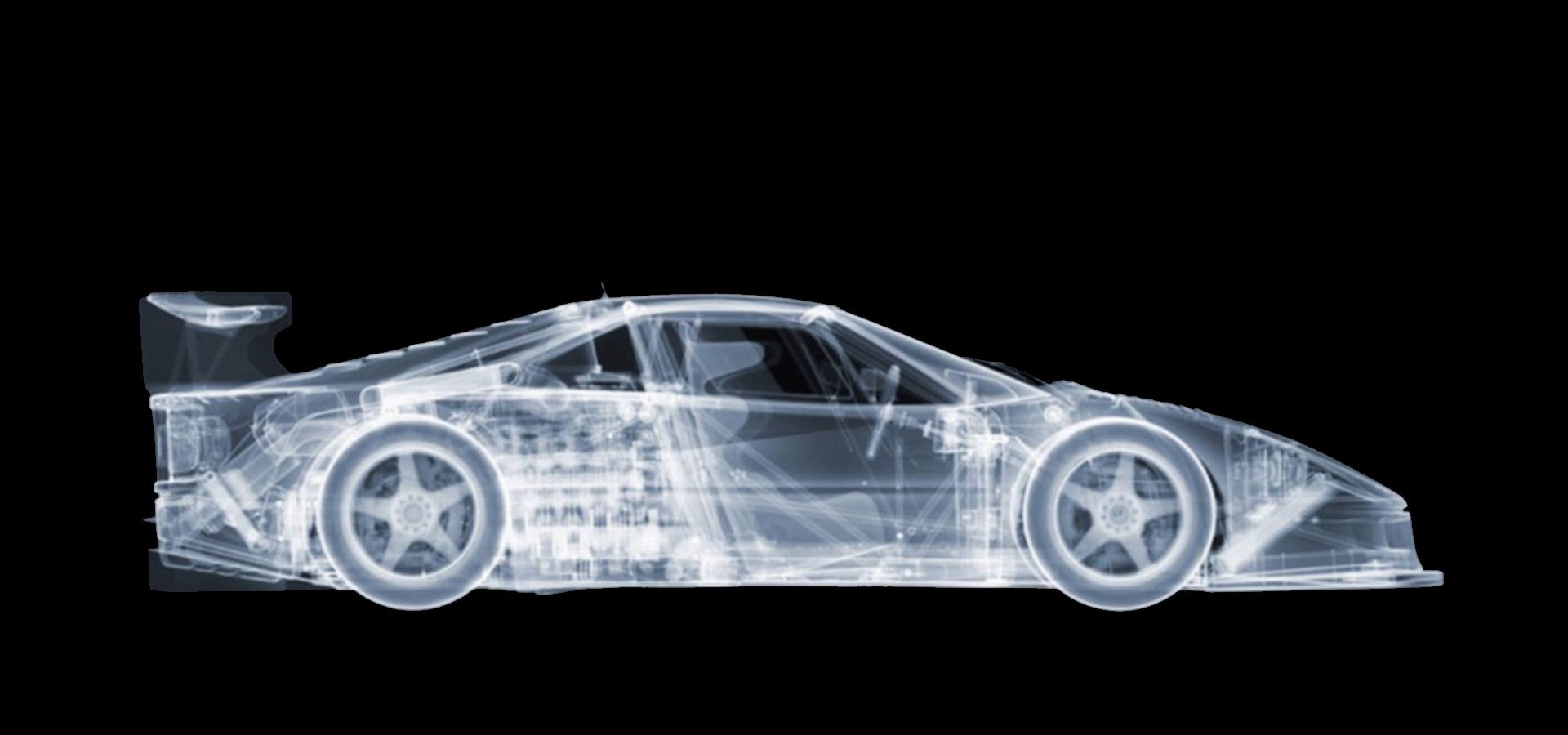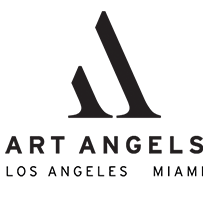 Eden Roc is proud to partner with Art Angels presenting artwork from X-ray photography artist, Nick Veasey.
New Curated Exhibit
Art Angels presents a new curated exhibit featuring artwork from X-Ray photography artist, Nick Veasey. As a nod to Eden Roc Miami Beach's rich history of hosting Hollywood's legendary A-list celebrities, view lenticulars picturing Elvis Presley, Marilyn Monroe, Michael Jackson and more. See these Hollywood icons come to life within the hallways of Eden Roc in addition to digital print x-ray images of various items and stories that capture the vibrant spirit of the city of Miami. 
What is a lenticular?
Lenticular is a ribbed lens that refracts light from different angles. When sequential images are split behind the lenticular lens the image looks like it moves or animates. It is amusing that this motion brings our x-ray of cadavers to life. By creating x-ray portraits of iconic figures, Nick's constant reference mantra of "inside we are all the same" becomes even more resonant.
About the Artist
Nick Veasey is no stranger to the art world. Known as "X-Ray Man," based in Kent in the UK, he's become the expert of visualizing inner beauty on a skeletal level. Working with electromagnetic radiation as his medium for expression, Nick's art delicately combines his affinity for danger with technology. His process begins within his X-ray studio, where he snaps individual images of props and subjects. His physical x-rays are then digitally uploaded and meticulously layered, presenting deeper narratives that lay dormant in everyday objects.
The Process
Working with x-rays is dangerous. So safety is paramount. Nick has built a bespoke concrete structure to contain the radiation. This building that appears to be a black box is where he now creates the vast majority of the x-ray work.
Inside the black box are several different x-ray machines and a film processor. The different x-ray machines have varying outputs and capabilities. The x-ray machines consist of a head unit that emits xrays and an electronic control that drives the head unit. The head unit is inside the area built to contain radiation, the controls outside.
Subjects to be x-rayed are placed on a lead floor or wall. Film is placed under or behind the subject. The x-rays that emanate from the head units pass through the subject and make an image on the film. That image is exactly the same size as the objects. If an object is too large to fit on one film, several are used.
Once the set-up is complete Nick retreats from the x-ray room to the controls outside. He then selects an appropriate exposure time for the subject (more x-rays are needed to image a heavy object made of steel than a light object made of plastic).
Now the x-ray exposure is complete Nick re-enters the x-ray room and collects the film. This film is processed and then scanned on a high-resolution scanner to obtain optimum detail and sharpness. The digital file created by the scanner is then carefully cleaned and retouched by Nick's small group of image specialists. Considering that, for example, the plane image consists of over 500 separate x-rays these specialists really are special. Sometimes colour is added, sometimes not. The result is an x-ray of unparalleled detail and beauty.
"We all know we shouldn't judge a book by its cover, that beauty is more than skin deep. By revealing the inside, the quintessential element of my art speculates upon what the manufactured and natural world really consists of."
- Nick Veasey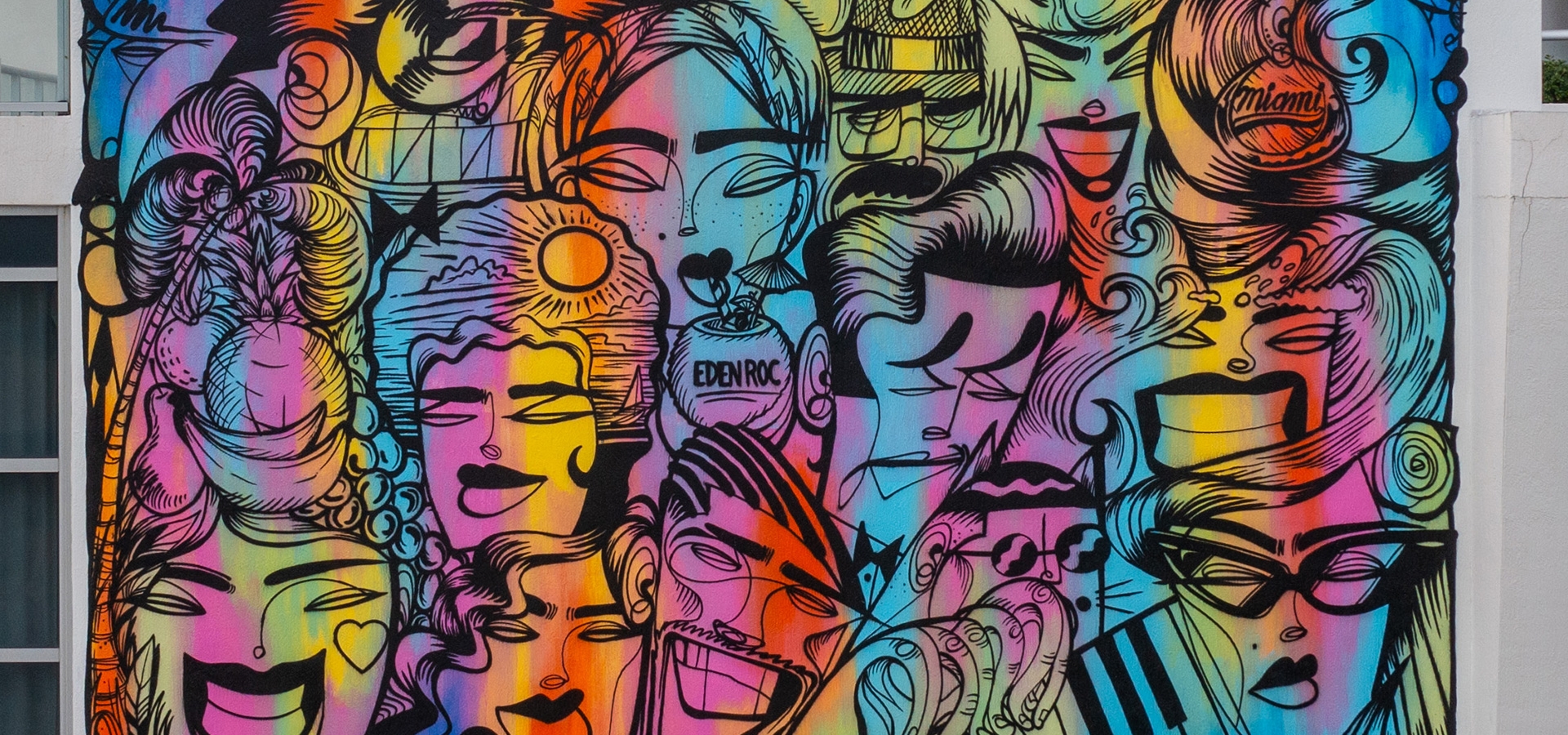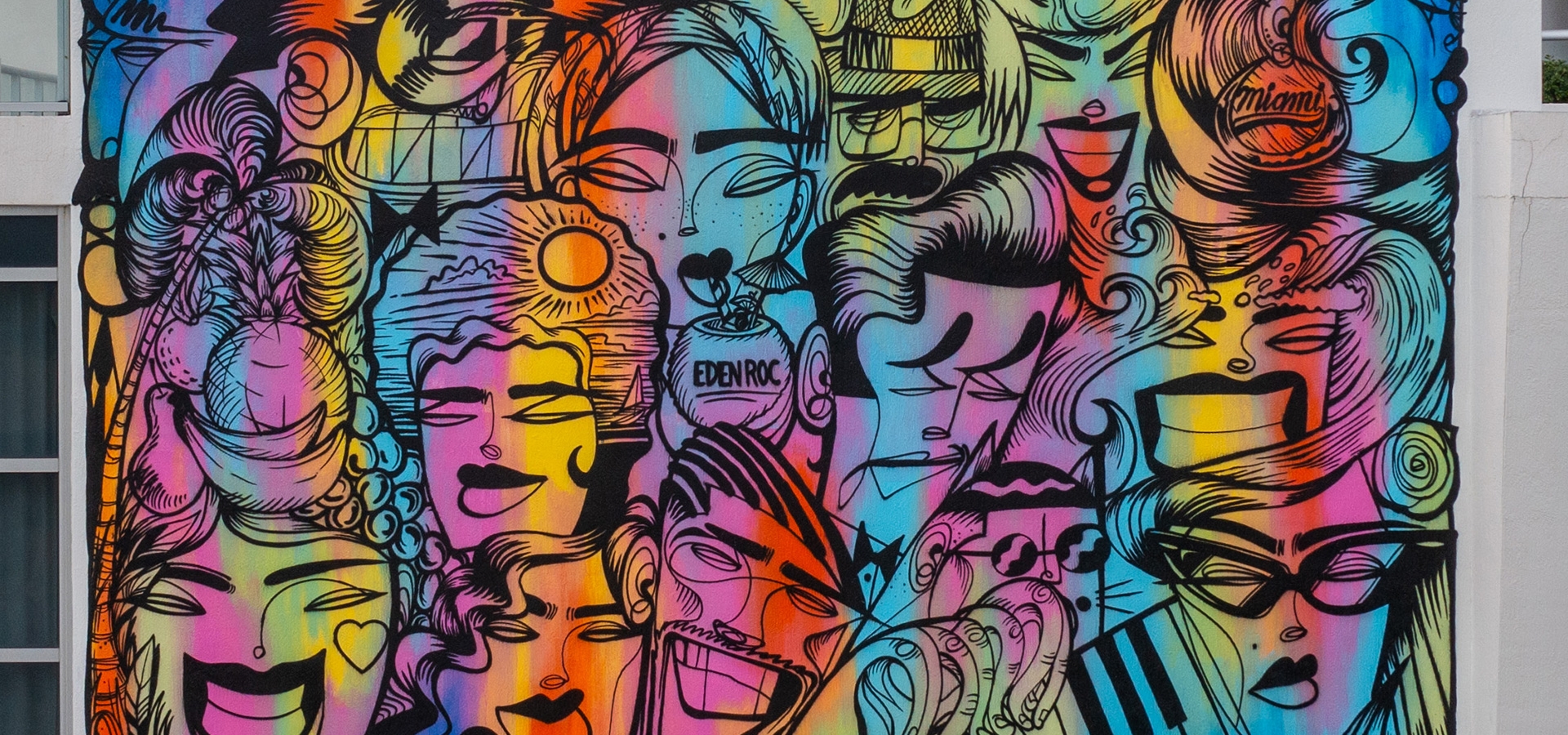 Together We Shine
Artist Stephen Palladino
In celebration of Eden Roc's 65th anniversary, and in honor of Miami Art Week 2021, Eden Roc Miami Beach teamed up with Museum of Graffiti to create a vibrant poolside mural entitled 'Together We Shine' by artist Stephen Palladino. The bold painting celebrates the colorful culture, diversity, and energy of Miami Beach and Eden Roc. It also enlivens Eden Roc's historical roots, as a modern interpretation of an Old Hollywood caricature wall by legendary artist Al Hirschfeld that once hung in Eden Roc's original restaurant, Harry's American Bar in the 1950s. The mural was unveiled on Friday, December 3rd, 2021 during an Art Basel invite-only poolside dinner hosted by the Eden Roc, exclusively for the world's leading graffiti and street artists who work with the Museum of Graffiti year-round to beautify Miami's public spaces.