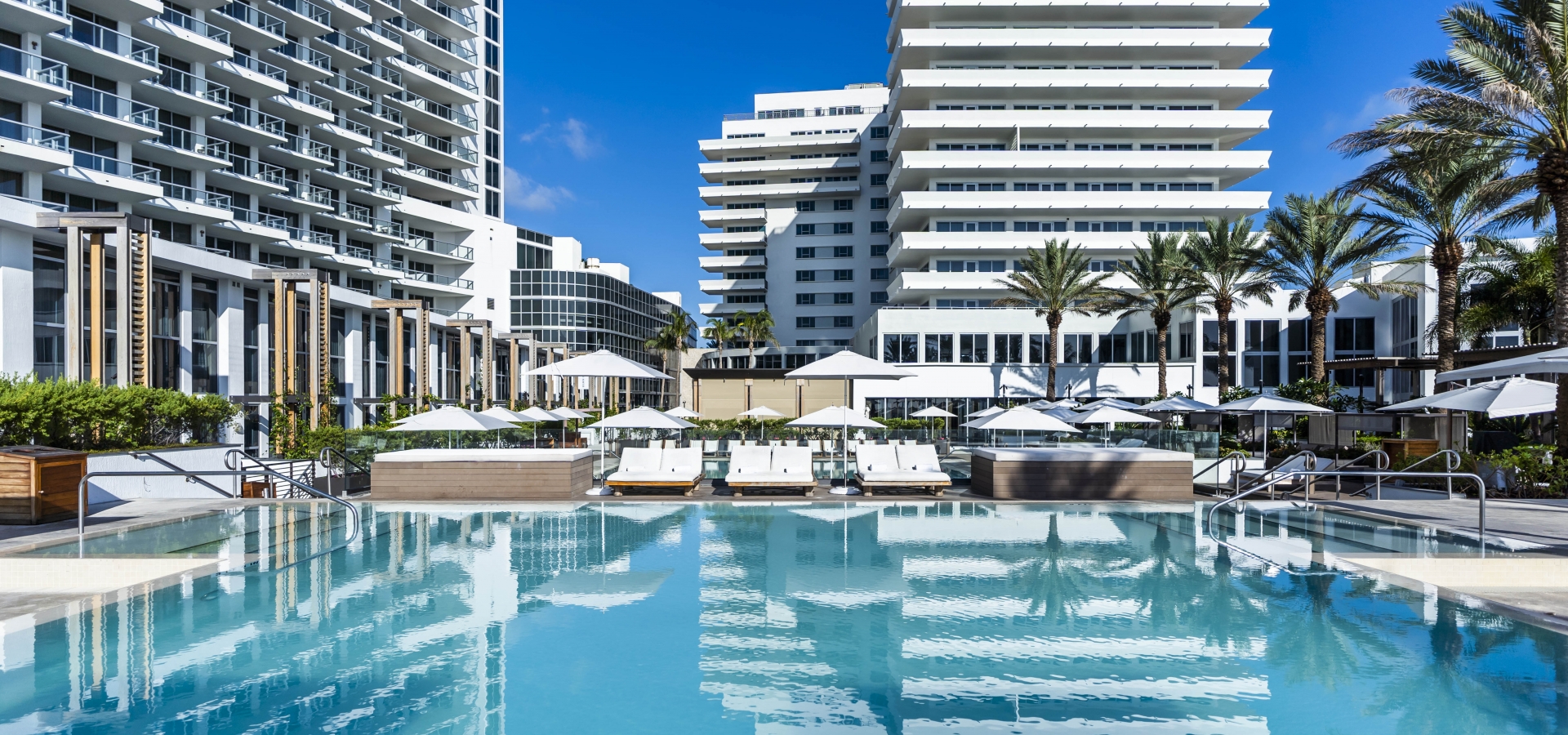 Frequently Asked Questions
Browse answers to questions our guests most often ask and arrive ready to make the most of your time at Eden Roc Miami Beach.
*All prices and inclusions listed below are subject to change without notice.
Rooms & Reservations
What times are check-in and check-out?
Check-in is at 4 PM and check-out is at 11 AM. When you book directly on this website and stay Monday – Wednesday, you may qualify for early check-in and late check-out, based on availability. You may also pay a half-day rate, for a guaranteed late check-out time of 2 PM.
Can I request connecting rooms for my reservation?
For all suite categories, you can request a connecting room. While we cannot always guarantee connecting rooms, we will do our very best to accommodate your request based on availability.
Is there a hold for incidental charges? Why do I see additional charges on my credit card?
Upon check-in, an authorization of the full amount of your room charges plus $200 per night will be taken from your card. Although the hotel will release the remaining funds upon departure, your issuing bank may take up to 3-14 business days to release the funds. The hotel will not be held responsible for the amount of time it takes for your bank to return the funds or associated overdraft fees with your debit card. Please note that we do not accept cash deposits. For all reservations, we require that you present a credit or debit card upon check-in to authorize the deposit.
Can the hotel store my luggage post-check-out?
Yes, we can hold your luggage free of charge until your departure.
What is the minimum age to check-in?
The minimum age for check-in is 18. If the guest is under 21, the minibar will be locked upon arrival.
Can I reserve a crib for my baby?
Yes, we have cribs available. Please call our reservations team for a comment to be added to your booking at 305-531-0000.
Dining
Where is breakfast served on property?
Ocean Social serves oceanfront, all-day breakfast seven days a week from 7:30am. At Café Inez, conveniently located in our Lobby, you can enjoy delicious to-go breakfast items, sandwiches and salads, as well as coffee, tea, juice, and other breakfast staples beginning daily at 6:00am.
Do you offer In-Room Dining?
Yes, In-Room Dining is available daily from 7:00am –  11:00pm.  To view our In Room Dining menus, click here.
Are Eden Roc restaurants vegetarian and vegan friendly?
Both Ocean Social Miami Beach and Nobu Miami have plenty of plant-based and vegan options. See all our dining options and book a table.
Can I order food & drinks from the beach?
Yes, Pool & Beach food and beverage service is available daily beginning at 11am.
Getting Here & Getting Around
What is the best way to transfer to the hotel from the airport?
Miami International Airport is 12 miles away from Eden Roc, which is about a 20-minute drive depending on traffic. The best transfer options are Uber or Lyft, taxi, or preferred Eden Roc pricing available at Hertz car rental. View all transfer options and details here.
How far is the hotel from South Beach?
Eden Roc is an oceanfront property featuring beachfront service. South Beach is approximately 3-4 miles away, a 5-10 minute car ride from the hotel. You can also reach South Beach on foot or by bike on the Miami Beach boardwalk behind the hotel.
How far is the hotel from Midtown and Wynwood?
The Midtown and Wynwood areas are approximately 5-6 miles away, a 10-20 minute car ride, depending on traffic and time of day.
How do I contact the property or see a map?
For reservations, spa, and general inquiries you can reach the hotel at 305-704-7605 or reservations@nobuedenroc.com.
Resort Amenities
What is included in the resort fee?
The resort fee includes Wi-Fi (10Mb), access to our ocean view fitness center, two beach chairs and towels daily throughout your stay, local and toll-free calls, and in-room coffee and tea set up.
Do you have high-speed Wi-Fi internet?
10Mb of Wi-Fi is included in the resort fee. 30Mb Enhanced and 60Mb Premium Wi-Fi are available for additional cost.
How much is valet parking?
Overnight parking is $55* USD (oversized vehicles $65 USD).
The daily rate for valet parking is $35 USD + tax (oversized vehicles $45).
Can I use the beach and pool before check-in and after check-out?
Yes, the beach and pool may be enjoyed on the day of check in and day of check out.
Do you offer Bike Rentals?
Yes. Bike rentals are available on a first come first serve basis and are located at the Boardwalk Gate near Ocean Garden.  Simply scan the QR code in the Bike's basket, download the Zybra App, enter your credentials and go.  Hotel Guests get to enjoy the first hour complimentary. Please contact our expert concierge to receive a promotion code.
Is the property ADA compliant?
Yes, the property is ADA compliant. See full list of amenities here.